Apple Wins Patent for NFC-Enabled 'iTravel' Transportation Ticketing App
Posted on 07-10-2012
---
Looks like Apple is moving to make the iPhone a universal tool for all aspects of your life. Apple is working behind the scenes to make airport check in for iPhone users a breeze and life for air travel a lot easier, from checking in to receiving your boarding pass. Now if they can only improve upon the TSA we'd be set!
Here is a story from MarRumors.com explaining Apples iTravel NFC application.
.....................
With Apple announcing its new Passbook digital wallet app for iOS 6 last month, speculation regarding the inclusion of near field communications (NFC) and mobile payment capabilities for future iOS devices has begun to increase. The speculation comes amid rumors of iPhone prototypes with NFC, although Apple has been said to be intentionally moving slowly on the mobile payment front.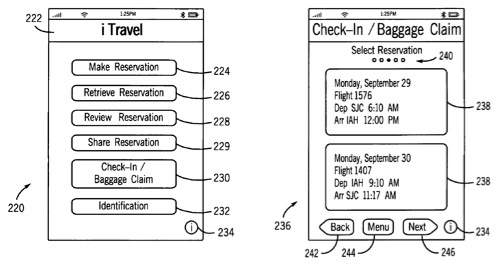 Now that Passbook has been revealed, today's granting of a new Apple patent for NFC-enabled transportation ticketing takes on additional significance. As noted by Unwired View, the disclosed "iTravel" application would handle a broad array of functions to assist with travel logistics.
The main focus of the patent is how you would use your next iPhone with NFC chip at the airport check-in. It includes loading your ID info such as picture, retinal scan and fingerprint data from modern passports with embedded radio frequency identification tags. Collecting your ticket information from reservation confirmation e-mails/notifications, or extracting reservation images via optical character recognition software, barcode-reading software, or QR-code-reading software. Providing the necessary information at the NFC equipped check-in counter, and receiving the boarding pass with luggage info in exchange. Using the stored ID to pass through airport security, etc.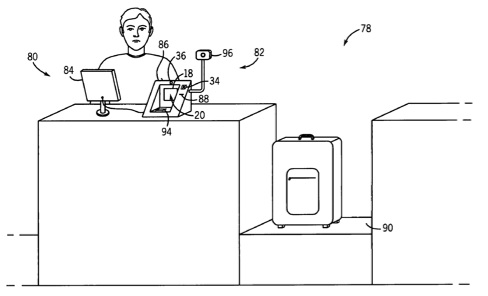 ...........................
Thank you to MacRumors.com for the great write up and information.
Cheers,
Ryan - MilliTalk
Don't forget to follow us on Facebook and Twitter for all the latest news.